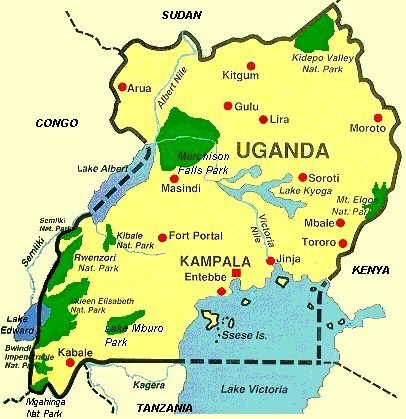 Jinja District Background
Jinja District is located in the southeastern part of Uganda. It is a small district found east of the Nile River and along the northern shores of Lake Victoria. Jinja District has an area of 767.7sq Km of which 701.9 sq km is land and the rest (65.8 Sq km) is covered by water bodies.
The district is subdivided into 3 counties, namely, Butembe, Kagoma and Jinja Municipality. There are 11 Sub-Counties; 46 Parishes and 381 villages. Jinja Municipality has three sub-counties and 55 villages. It is bordered to the east by Iganga and Mayuge districts, to the north by Kamuli district and to the southwest by Mukono district. (Uganda, Republic of 1991). 
Jinja is the second largest town in Uganda in East Africa, and it is about four thousand miles from London. It is on the shores of Lake Victoria, near the source of the River Nile, which flows North all the way to the Mediterranean.
The tribe who live on the West side of the Nile are called the Baganda and their language is Luganda. The tribe who live on the East side are called the Basoga, and they have a similar language called Lusoga. About forty languages are spoken in Uganda. Children have to learn English, which is the written language of the country, when they go to school.
When in 1906 the British rulers established a town near the source of the Nile they called it "Jinja" after the word for rock in the local languages, "ejjinja" in Luganda and "edinda" in Lusoga. The area was known as the "place of rocks", because on either bank were large flat rocks from which small boats could be launched to cross the river. These rocks have now disappeared beneath the waters of the dam which the British later built to provide hydroelectric power.
Jinja Today
Previously, Jinja was Uganda's leading industrial town, however the industrial base collapsed in the 1970s and 80s following Idi Amins regime. Jinja's strength has since declined leaving only remnants of industries developed on outdated technology. There are a few industries that have been re-established in the town, but nonetheless it has not helped the majority of residents, who continue to suffer from endemic poverty with very limited purchasing power or productivity. Jinja Municipality is still a major economic center in the region, as well an important tourist destination, particularly its white-water-rafting. There is great hope for Jinja's future, but the needs of the people there, especially the victims of HIV/AIDS, are immediate. We, and they, invite your help.