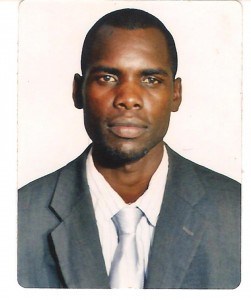 Pastor David Oteko was born in Kumi district Eastern Uganda in 1988 and he was the third born in the family. David grew up in Jinja district because his parents had left their home town due to the civil wars. David's mother died in childbirth when David was only 9 years old. His father, Daniel Omacar, could not manage to look after them all well since he was just a fisherman and the money he used to get from selling the fish was very little and could not pay for the children's school fees and other scholastic materials, which led David and the rest of his siblings to
lack education.
When David saw that the situation was worsening, he went out and started to work for people in their homes in order to get small money for his Education and personal use. Since he was still not getting all his basic needs met, he also gathered firewood and sold it at the age of 10 years. The little money he earned he used to help the family too, and he managed to pay for his primary education in that way.
One Sunday in 2001, David's friend who was already saved took him to a church for prayers and that is where he gave his life to JESUS CHRIST as his personal savior. As a humble Christian, the Holy Spirit spoke with his pastor to sponsor his high school education in 2002 and he was taken to a nearby school. David used to preach to the students at the school and many gave their lives to Jesus. In 2006, his father died of AIDS when David was still in school and this brought him and his siblings to be total orphans. He could not believe that his father had died of AIDS and he witnessed how this killer disease killed his father and hurt the family. After that David felt deep love for the children who are orphaned due to AIDS and the vulnerable ones.
David completed high school in 2008 and entered into the full time ministry until now, and his main interest is children's and widows' ministries, this is because David knows how these children suffer since he also passed through the same situations.
Today, David's heart is for helping orphans and vulnerable children who have lost their parents, he struggles a lot to see that every child who is under the program of Dream Children's Ministry- Uganda has the needs met that every child deserves, including a good education. He has visited in many villages of Uganda and noticed that many children are being left out by their communities, without any help, and he has a vision of building orphanages all over Uganda.